The Aldershot Town FC Academy consists of three phases; The Foundation Phase (U9-U12), The Youth Development Phase (U13-U16) and The Professional Development Phase (U18-U23). The Foundation Phase and Youth Development Phase (U9's-U16's) combine training twice a week with a weekly games programme against other academies and clubs. The Professional Development Phase (U18's-U23's) is a full-time educational programme consisting of daily training and competitive matches.
At the Aldershot Town FC Academy we have a two-tiered Player Progression Pathway which allows players to develop at their own speed and progress to the next level if and when they are ready.
If you want to become a part of the Aldershot Town Academy and Youth Teams, then this is the place to start:
The process begins at our

Little Shots sessions for kids aged 5-6. The next stage is to progress into our Pre-academy age groups (U7's & U8's).
Another step to take is to attend our Development Centres

for kids aged 7 – 16

. The sessions are delivered by academy staff and mainly focus on the individual and aims to develop ball mastery and technique within game scenarios. This can provide a stepping stone in to the top tier of the Player Progression Pathway; the Academy.

If your boy is deemed of a high enough standard, they will be invited to an 

Academy Trial and potentially join the Academy

.

In the Academy, you'll train twice a week with UEFA and FA qualified coaches, and play at least one game per week against other National League Youth sides, and local clubs.
The aim of the Youth Development Phase is to develop players to enter our Professional development Phase and Youth teams.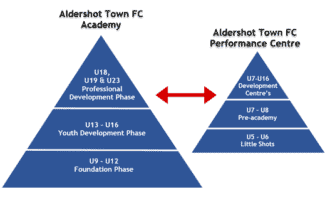 View the Academy Fixtures and Results page to keep up to date with the games played by the U23's, U19's, and U18's.
You can stay up to date with everything happening in our Academy on Twitter and Instagram.