Each game this season The Shots match day programme has been taking a trip down the time tunnel of Aldershot Town memories, looking at three different years and three different matches played in the weeks corresponding to the home fixture of the day. The season has now officially been brought to an end but the Time Tunnel carries on. Today we travel back to 2017, 2011 and 2007 as the time tunnel takes us back three, nine and 13 years into Shots' history and three matches played on or near 9 May.
3 years ago
Tranmere Rovers 2 – 2 Aldershot Town NL Play-Off semi-final second leg
Saturday 6 May
Attendance: 10,241 (Visitors 467)
Goalscorers: Bernard Mensah, Jeff Hughes (og)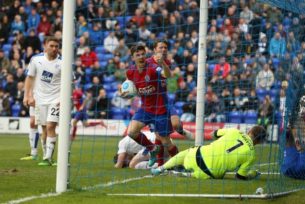 Just one week previously there had been delight and celebration at the EBB Stadium as Aldershot Town, in just their first season back under the care of Gary Waddock, had reached the National League play-
offs. Hopes were high that with the manager who had previously taken them back to the Football League
that the same might happen again – and with a Wembley final to enjoy as well. Sadly, the first leg of this
tie against Mickey Mellon's Tranmere Rovers had gone horribly wrong, the two league results which had
seen the Shots take four points from the men from The Wirral standing for nothing as the Shots were
defeated 3:0 in front of their biggest crowd in nine years.
The chances of qualifying for the play-off final now looked almost zero but with 90 minutes left to play,
Waddock's men were certainly going to give their very best in the second leg and make Tranmere fight
for their right to go to Wembley. Nearly 500 travelling supporters felt the same way and gave vociferous
backing to the team throughout the whole of the midday kick-off game.
The picture grew bleaker first though, as the Super White Army roared into a four-goal aggregate lead,
the ball being launched forward from defence for Cole Stockton to run onto and score. Almost certainly
no return now for the Shots, but just before half-time Bernard Mensah hit a beautiful and smooth shot
into Scott Davies' top corner and the impetus from that was clear to see from the start of the second
period.
Now playing towards their own supporters, the Shots had a corner five minutes into the second half and
under pressure from Matt McClure, Jeff Hughes bundled the ball into his own net. Buoyed by being in the
lead, albeit only on the day, Waddock's men began to apply pressure and both the Tranmere players
and the home support began to wobble under the football now being played against them. James
Norwood netted to the huge delight and relief of the majority of the crowd but it was ruled out for offside
and rocked and distracted by this, Rovers were temporarily all over the place. McClure's shot was
parried by Davies and he had to save again on the rebound from Manny Oyeleke. And when Nick Arnold
went to take a corner for the Shots, it was as if you could hear a pin drop in Prenton Park, so fearful was
the home support of the Shots coming within a goal of flattening the tie.
Sadly for the travelling 500, Scott Rendell's fine header from that corner was saved brilliantly by Davies –
a goal there would really have caused panic on the Wirral – and deep into added time, even the joy of
winning on the day was snatched from the Shots as James Norwood scored for a final 5:2 aggregate win
for Tranmere.
Standing in front of their supporters, applauding them for the final time that season, the players would
have been buoyed up by the We're proud of You signs held up by supporters and the chants about
different players. All in all it had been a season which had long exceeded expectations. Now all Waddock
had to do was recreate it all again the following season…
9 years ago
Lincoln City 0 – 3 Aldershot Town
Saturday 7 May
Attendance: 7,932
Goalscorers: Danny Hylton (p), Luke Guttridge (2)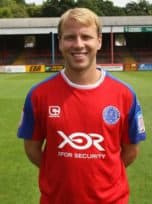 After a somewhat erratic campaign, Aldershot Town finished their third season in League 2 with an
excellent win over Lincoln City, at the same time condemning the Imps to relegation and a seven year
spell in non-league football. Having started the season under the management of Kevin Dillon, results
running up to, over and after Christmas had convinced the directors, along with dissent from the
supporters about the manager, that new blood was needed; Dillon was sacked in early January and
almost immediately replaced with Dean Holdsworth and he had done well in his first four months as
manager, with seven wins, 12 draws and four losses to kick-start his Shots career.
Lincoln had been enjoying a fairly ordinary season up until two months previously – since then they had
gained just one point from a possible 27, plummeting down into the relegation places! Already relying on
Barnet losing at Port Vale to keep them up, 0:0 at half-time was something to work from, but in the
second 45 minutes it all fell apart for Steve Tilson's side. First of all Izale McCleod put the Bees into the
lead and then in the 56th minute, referee Jon Moss awarded a penalty to Aldershot Town when Jermaine
McGlashan was fouled. Danny Hylton, enjoying a resurgence of form and game time under the new
manager after being well off Kevin Dillon's radar, made no mistake with the spot-kick.
And after that it was all Aldershot Town. Quarter of an hour later Luke Guttridge was set up by Damian
Spencer and fired home crisply from the edge of the box and it was the blond midfielder's time to shine
again minutes from the final whistle, when Reece Connolly, on for Spencer, sent Guttridge through to
finish from 14 yards out for his second and Shots' third.
Amidst the desolation sweeping around the ground the Aldershot players along with their manager, were
able to reflect on a good end to their season and a performance which reflected well on the whole squad.
The supporters who witnessed it were also pleased. There looked like there was every chance that
Holdsworth was going to be someone who could take the club places and next season couldn't come
fast enough…
13 years ago
Aldershot Town 2 – 1 Fleet Town Hampshire Senior Cup Final
Saturday 5 May
Attendance: 1,105
Goalscorer: John Grant (2)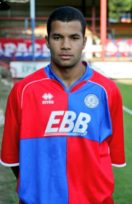 The 2006-07 season came to a close on a high note, with a fifth Aldershot Town win in the Hampshire
Senior Cup Final, despite it being a campaign where the Shots had experienced a sad event – the
departure of much-loved manager Terry Brown six weeks earlier when it was revealed that his wife was
suffering from Leukaemia. Terry made the decision to step down to care for her and had experienced a
huge outpouring of love and support from the supporters after his final game in charge, a 1:0 home
victory over Weymouth.
Assistant manager Martin Kuhl was put in caretaker charge for the final eight games and with the Shots
safe in mid-table, oversaw three wins, three losses and two draws. The final four games didn't see a goal
scored by Kuhl's men and it might have been wondered by those travelling down to Bournemouth's Dean
Court for this county cup final just how a win might be achieved against Andy Sinton's Fleet Town.
Maybe it was the sunny weather, maybe the fact that the season was over with no more pressure, or just
because they were playing a team two divisions lower than themselves – whatever it was, the afternoon
turned out nicely for the supporters who had made the Bank Holiday weekend trip to Dorset.
Unsurprisingly the goals came from the season's leading striker, John Grant, who in bagging a final
brace of the season for himself took his total in all competitions to 23. Despite the Blues also notching a
goal, the Shots were never really under pressure and there was even time for Kuhl to bring on youth
product Danny Hylton for his now customary regular appearance in the Hampshire Senior Cup – Hylton
had played in every round, scoring a hat-trick in the opening round match against East Cowes Athletic
Victoria and another goal in round three, an 8:1 drubbing of Brading. On the AFC Bournemouth pitch he
showed his usual desire to run like crazy and the Shots supporters who had previously seen him play
were beginning to have high hopes for the gangly 18-year-old.
At the end of the game the players donned 'We did it for you, Scotty' T-shirts – Ryan Scott had been
carried off the pitch with a bad leg break in the final league game of the season – and captain Darren
Barnard was awarded the trophy. It was a good end to the season, but as the supporters travelled back
up the M3 there were questions. Would Kuhly be the new manager and if not, who would be? This was a
key time for the club and everyone was keen for the very best appointment to be made in order to move
the club that further step on and into the Football League. Just who that would be remained to be seen,
though…