Each game this season The Shots match day programme has been taking a trip down the time tunnel of Aldershot Town memories, looking at three different years and three different matches played in the weeks corresponding to the home fixture of the day.
Currently we don't have any fixtures but the Time Tunnel carries on, matching up to the previously scheduled games. In line with what would have been the FC Halifax Town v Aldershot Town fixture, we travel back to 2012, 2004 and 1996 as the time tunnel takes us back eight, 16 and 24 years into Shots' history and three matches played on or near 18 April.
8 years ago
2012
Aldershot Town 2 – 1 Swindon Town
Tuesday 18 April
Attendance: 3,562 (Visitors 1,263)
Goalscorers: Guy Madjo, Danny Hylton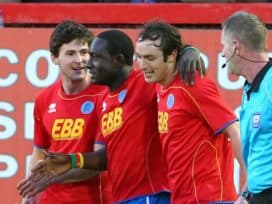 Having clawed themselves to safety, after an unbeaten run of seven games through late January and
into February, the Shots had taken themselves into a safe position in League 2 and were seeing out the
season with a mixture of wins, losses and draws. The visitors this evening were high-flying Swindon
Town who needed just one more point to confirm an immediate return to League 1.
Led by the charismatic Paulo Di Canio, The Robins were in fantastic form, having won their last four matches and with their boss having sadly lost his mother the previous weekend, were determined to bring him the prize he so desired.
Any outsider would have said that the match would only go one way, the Shots not enjoying good form of
late, Dean Holdsworth's men having only gained two points from a possible 12, but the evening was in
fact to pan out very differently from expectations.
The Shots supporters were loudly backing their team and with over 1,000 fans having travelled down the
M4 too there was a great atmosphere in the ground. After only 12 minutes, this atmosphere was racked
up further when Wes Foderingham could only block Danny Hylton's shot and Guy Madjo was on hand to
tap in from six yards out. The ground erupted as Madjo celebrated with team mates and club mascot, the
Phoenix and the Shots began to pile on the pressure. However, sharp words from the touchline led to an
improving Swindon and the remainder of the half was played mostly in midfield, neither goalkeeper
having much to do.
The Shots started the second half in the ascendancy but just seven minutes in disaster occurred, when
during a Swindon attack, Aldershot Town midfielder Peter Vincenti was adjudged to have handled the
ball and the visitors' captain, Paul Caddis, made no mistake with the spot-kick, firing the ball home past
Jamie Young. But despite this equaliser putting some belief back into Di Canio's men, there was to be no
holding the Shots on this magical evening and it took just five further minutes for the Madjo/Hylton
combo to come up trumps again, this time with Madjo being the provider.
He dispossessed Aden Flint on the edge of the area and the resulting pass to Hylton led to the hosts' number 10 tapping the ball home. The rest of the half saw the Shots play out a tremendous rear-guard display, lifted by the East Bank chanting 'Not Tonight' at the Swindon Town supporters and players, a reference to Swindon not being able to achieve their promotion at the Recreation Ground. The final whistle saw huge celebrations from the home supporters, thrilled at their victory over the Champions elect. Indeed, Swindon went on to be promoted four days later but this was to be the Shots' night, one that would remain in the memory for years to come…
2004
Forest Green Rovers 3 – 1 Aldershot Town
Saturday 17 April
Attendance: 1,330
Goalscorer: Rosco D'Sane (P)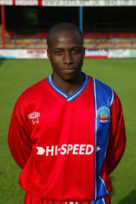 Aldershot Town's first season in the Nationwide Conference could hardly have gone better. Just two
games left to play and with favourable results, they would be able to end the campaign in fifth place and in the play-offs – exciting times indeed and a fine end to Terry Brown's first season as a Conference-
level manager.
The run-up to this match though was less than encouraging. Three losses and one draw in the last four
matches with the last win being a 2:0 home victory over Stevenage Borough at the end of March, meant
that hope was well-tempered with realism – the thought of getting so near and then maybe yet so far was
hard to bear but this game was going to be no easier than any of the previous four matches and indeed
probably harder. Rovers were way down the table fighting against relegation and needed these points
very badly and the travelling supporters might have expected a tough battle – initially though there was
very little evidence of this.
In fact it was the Shots who were to take the lead when Michael Green gave away a penalty for the hosts
in the 23rd minute, picking up a yellow card for his troubles as well. Rosco D'Sane made no mistake with
the spot-kick and Aldershot Town were ahead! It was a lead they were to take into the half-time interval
and the away end was abuzz with optimism, albeit tinged with an edge of fear. And those fears were
sadly realised just five minutes into the second half as events turned on their head at The Lawn.
Forest Green equalised through Kevin Langan and quarter of an hour later it was the home side's turn for a penalty, conceded by Richard Barnard, standing in for regular stopper Nikki Bull. Damon Searle made no mistake.The Shots continued to look for an equaliser but it was a Rovers' substitute who was to seal the game for his team. Steven Cowe arrived on the pitch in the 74th minute, was booked in the 77th and then broke Shots hearts by scoring a third and decisive goal on 83 minutes. It was a good win for Forest Green and just about made them safe. Aldershot Town, however, if they were to make the play-offs, needed one more point from their final home game. Could they do it? Everyone would know, seven days hence…
1996
Uxbridge 0 – 2 Aldershot Town
Saturday 20 April
Attendance: 554
Goalscorers: Andy Parr, Andy Nunn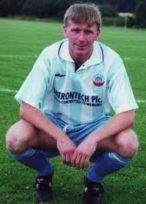 As the end of Shots' fourth season came closer, it was clear that it was going to be a second consecutive
campaign without a promotion, something which had caused rising levels of unrest throughout the
fanbase as the season played out – back-to-back promotions in the first two years of Aldershot Town's
existence having created its own problems, that of an extremely high set of expectations from the
fanbase.
There had been some good wins – nine goals scored against Whyteleafe for example, six away and
three at home, without reply, and indeed the Shots were to reach the final of the Isthmian League Cup
final, played on May Day Bank Holiday Monday, although that ended in defeat, but ultimately there were
not many good memories to take away from Steve Wigley's first full season in charge at the Recreation
Ground, even though he did take his team to a final place finish of fifth in the table.
This penultimate away game at Uxbridge was notable for one event at least though, with utility player
Andy Nunn scoring his sole goal of the season, and the winning goal to boot. Nunn, who was to play
over 100 games for the Shots over a period of seven years, didn't find the net that often, with only eight
goals in total scored for the Shots and this was actually to be his swansong in front of the net. However,
he went on to represent Aldershot Town for a further three years, alongside becoming Youth team
manager in the summer immediately following this season, followed by reserve team manager and
eventually, highly respected groundsman for the Club.
All this was in the future though as the supporters travelled home from north London. At least their team
had given them plenty to cheer about over the past nine months and if they hadn't gained promotion?
Well, there was always the 1996/97 season to look forward to …