Aldershot Town are delighted to welcome three new faces behind the scenes in Andrew Ellery, Matt Wigman and Chris Woods. The trio step into roles in the club's ticketing, marketing and communications department.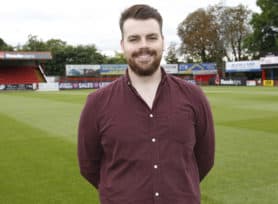 Andrew, 23, joins us from the English Schools FA where he was Marketing & Communications Officer, originally from Scotland, he now lives in Aldershot and is a lifelong Kilmarnock fan. He graduated in Sports Management from the University of Edinburgh. He will be the club's new Marketing Officer.
On joining the club Andrew had this to say: "It's an honour to join the club, it's a great opportunity for me and hope I can really help the club move forward in a positive direction.
"Having moved to the area for the role, I'm really getting settled in and happy to be a part of such a welcoming community."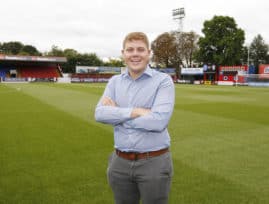 Matt, 21, is a recent graduate in Football Business and Finance from UCFB Etihad Campus and brings a wealth of local knowledge having been born and raised in Guildford. He has football club experience at Fleetwood Town and joins the club as the new Ticket & Merchandise Officer.
He said this after starting: "I'm really excited to get started, my granddad supported the old club Aldershot FC, and hopefully I can make a positive impact here."
Chris, 25, joins us from Wealdstone FC where he spent two seasons as the club's Social Media Manager & Assistant Press Officer. Currently residing in Buckinghamshire, he has been a Shots fan since 2004 and is also a Sports Journalism graduate from Southampton Solent University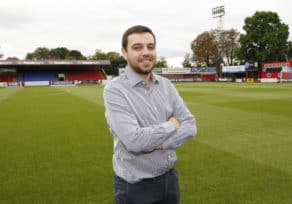 Speaking about joining the Shots, Chris said this: "I can't wait to get started, I feel so fortunate to be given the opportunity here and pick the brains of Gary and the players in interviews, as well as pushing media content to the next level for our supporters."
Shots CEO Laura Smith had this to add: "I'm really pleased to welcome Andrew, Matt and Chris to the staff team here at the club.  During my relatively short time at the Shots, I've spent quite a lot of time reviewing all aspects of the club and over the close season, we've developed a number of strategic plans to help take our club forwards.
"Key to implementation of these plans is having a skilled team of staff in place who have a strong desire to achieve our goals. I'm looking forward to helping Andrew, Matt and Chris settle in to their new roles and to seeing the impact they have at the club in the coming weeks and months."
Welcome to the club Andrew, Matt and Chris!