Ahead of this Saturday's Remembrance Fixture, Head of Football Operations Terry Brown, along with a group of first-team players, visited Talavera Junior School where many of the children are from service families.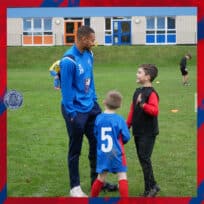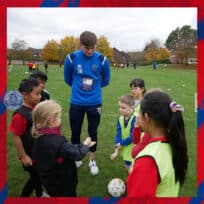 Mo Bettamer, Giles Phillips, Ben Shroll and Lewis Kinsella all volunteered to come down and help run the session for the children, following a day's training and were happy to get involved throughout the afternoon.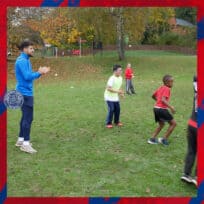 Upon their visit, the Aldershot Town representatives brought a number of Shots-related gifts to hand to the children, including Aldershot Town medals and also water bottles for each child as we hope to see them at our Remembrance Fixture against Grimsby Town this Saturday.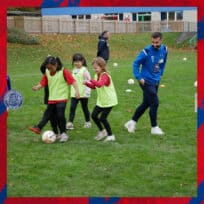 After visiting, Head of Football Operations Terry Brown said:
"A big thank you to Talevera Junior School as we're celebrating Armistice Day this Saturday and wanted to come down and see some of the local community, with extra young guests that we hope will be in the Community Stand against Grimsby Town.
"Four of our senior players have come up and helped us alongside the coaching staff at the academy.
"It was a very-well organised session and I have to say the kids were really good and really enjoyed it.
"They all got their medals and most of them scored a goal which is a positive!
"The amount of kids that said "are you playing Saturday?", so maybe even if half of them come along from Saturday, it's great but a real fun session and that's all about what our academy do and we're delighted to come along and be a part of it.
"Overall a really smashing afternoon and proud to be representing The Shots."