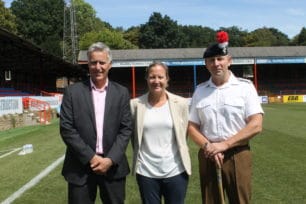 Aldershot Town are delighted to announce that we have extended our licence with Aspire Defence Services and the Aldershot Garrison to enable our First Team to continue using their excellent facilities on Queen's Avenue for the remainder of the 2018/19 season.
This licence allows our First Team to train at the Military Stadium, the pitches on Queen's Parade, the Garrison Sports Centre and 3G Pitch.
We would also like to extend gratitude to the Army FA for their continued support and assistance in developing this exciting partnership.
Garrison Commander Lt Col Paddy Baines and Aspire had this to say: "ADSL and Aldershot Garrison are delighted to welcome Aldershot Town FC back to Queens Parade for their main training base.
"The Club, the Garrison and ADSL aim to work closely together to strengthen the relationship and also with the Community. We wish the Shots the best of luck for the coming season."
Aldershot Town CEO Laura Smith added: "We are so grateful to colleagues at the Garrison and Aspire, as well as the support we continue to receive from the Army FA, for allowing our first team to utilise their excellent sports facilities again this season.  We are committed to working with local stakeholders and are looking forward to building on last season's partnerships further over the coming months."
This partnership also offers current Aspire Staff concessionary entry rates to all our home league games at the EBB Stadium.
All parties involved are also looking at ways that we can work collectively in this partnership in benefitting the local community and strengthening our relationship over the course of this season.