Aldershot Town defender Lewis Kinsella has committed to the club for the 20/21 season!
The left-back is still recovering from an injury he picked up during last campaign, but is on track to be ready for the start of the new season.
Lewis is close to reaching 100 appearances for the club and he'll be looking to achieve this as we look ahead to the 20/21 campaign.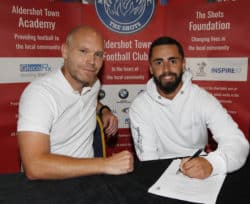 Lewis said: "I'm delighted…if I was to stay at any club in this league it would be Aldershot.
"I love it here, I love the fans and love playing.
"I'm very happy that I could agree terms to stay and I'm really looking to the season."
Welcome back Lewis!
If you would like to sponsor Lewis's shirt for the 2020/21 season then please contact Commercial Manager Mark Butler on mark.butler@theshots.co.uk or call 01252 320211.