2016 marks the 90th anniversary of football in Aldershot and this year we will be remembering the most important matches, players and moments which have shaped our clubs. Every day on our Twitter and Facebook pages we remember another piece of history, and then bring them altogether here at the end of the week…
Aldershot 2 Aston Villa 1 – Wednesday 8 January 1964, The Recreation Ground: Shots keeper David Jones had been the hero in the goalless first match at Villa Park – including denying Tony Hateley from the penalty spot – and over 13,500 at The Rec saw The Shots knock out the seven-time winners in this third round replay! Aldershot dominated but didn't find the breakthrough until the 69th minute. Jim Towers' swerving free-kick from out on the right flank evaded the diving Villa goalkeeper, and then on 75 minutes Chris Palethorpe scored direct from a corner. Hateley finally did score, in the last minute, but The Shots were through – although they couldn't maintain the sequence which had held strong for the past five seasons, when the team that knocked Villa out of the FA Cup went on to win the competition! AFC: Jones, Devereux, Renwick, Smith, Henry, Mulgrew, Palethorpe, Priscott, Fogg, Towers, Burton
Sheffield United 0 Aldershot 0 – Tuesday 9 January 1979, Bramall Lane: With the FA Cup third round schedule ravaged by bad weather, The Shots travelled to Bramall Lane for a re-arranged tie four days later against a United side featuring future Argentina manager Alex Sabella. Before a 16,000 unsegregated crowd, the struggling second division team – destined for relegation – dominated against the fourth division Shots. But, with a defence led by Joe Jopling, Aldershot put up a superb rearguard action for 90 minutes to secure a replay at The Recreation Ground six days later. Having scraped through the first two rounds, a famous cup run was gathering momentum. AFC: Johnson, Howitt, Wooler, Dixon, Youlden, Jopling, Crosby, Brodie, Needham, Dungworth, McGregor
Aldershot 3 Oxford United 0 – Saturday 10 January 1987, The Recreation Ground: Due to the 300% increase in ticket prices, just 1966 people enjoyed the privilege of seeing Aldershot totally outclass the League Cup holders and create one of the biggest FA Cup shocks of modern times. Colin Smith powerfully headed home Ian McDonald's cross to give The Shots a half-time lead on a frozen, bumpy pitch. In the second-half, Glen Burvill hit a 25-yard drive into the top corner and then Bobby Barnes completed the rout by following up the rebound when his own shot was parried. John Aldridge was soon substituted, days before his move to Liverpool, and Oxford were soundly beaten. "The pitch was a great leveller that day," said McDonald years later. "But I think we'd have been capable of beating anybody in the Cup if we'd played like that." **Watch a news report and highlights of the game, courtesy of KappadeanoTV, here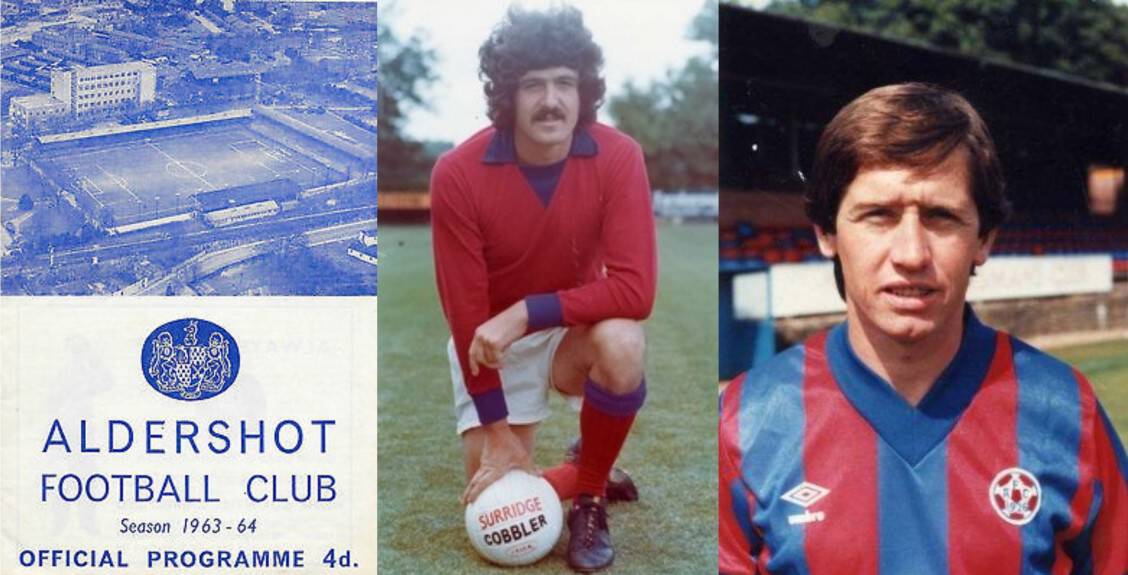 Alan Burton (50 goals in 256 games) – born Wednesday 11 January 1939: Pacy Aldershot-born winger who was the only player to remain at the Club throughout the 1960s. Signed from Wimbledon initially as a part-timer, Alan made his debut in a 5-0 win against Crewe in December 1960 and quickly forged a reputation as both a fine creator and scorer of goals. He made 47 appearances in 63-64 – including both matches against Aston Villa in our run to the FA Cup fourth round – and scored a hat-trick in the 4-1 defeat of Hartlepools in December of that season. Alan was then joint leading scorer in 65-66 with 15 league goals, and was rumoured to have attracted the attention of first division sides Arsenal and Southampton. Eventually he rejoined Wimbledon in July 1970, via a short spell at Alton Town, but left a lasting legacy as one of Aldershot's own very much made good.
Aldershot 3 Huddersfield Tn 1 – Monday 12 January 1970, The Recreation Ground: Frank Worthington gave the Division Two Champions elect an early lead in this end-to-end FA Cup third round replay, and Steve Smith soon hit the crossbar for The Terriers, but Shots Player-Manager Jimmy Melia inspired a thrilling comeback. Huddersfield goalkeeper Terry Poole dropped a weak back-pass at Melia's feet, allowing him to walk the ball into the net in stunned near-silence. Playing with panache in front of an otherwise frenzied 14,332 at The Rec, Aldershot seized the initiative. Several chances were spurned but Peter Gowans' flashing 47th minute drive put The Shots ahead and Melia converted a penalty on the hour after Gowans' goalbound shot was handled. The Shots' somewhat dubious reward for their heroics was the mammoth journey to another Division Two side, Carlisle United. AFC: Godfrey, Walden, Jopling, Walker, Dean, Paton, Walton, Brown, Howarth, Melia, Gowans
Bobby Howfield (54 goals in 118 games), Saturday 13 January 1962 – Chesterfield 2 Aldershot 3: Bobby Howfield scored his 16th and 17th goals of the season as The Shots won 3-2 at Saltergate to move up to third in the Fourth Division. A proven matchwinner, fans favourite and notoriously feisty character, Howfield – who had recovered from a broken leg in 1960 – went on to smash the Club's record for most goals in a league season, with 23 in 1961-62. Possessing a famously fierce shot, Bobby scored 54 goals across two spells at The Recreation Ground – and also played for Watford and Fulham – before bringing his talents to American Football and scoring 487 points in 89 games as a kicker with Denver Broncos and New York Jets.
Kirk Hudson (45 goals in 180 games), Saturday 14 January 2006 – Basingstoke Town 3 Aldershot Town 2: Aldershot Town lost this Hampshire Senior Cup quarter-final as Basingstoke Town scored two goals in the last 15 minutes, but one man helped Shots fans forget the result with two goals of his own in a fine debut. At that point, the 19 year-old winger was still a trialist after his release by AFC Bournemouth but he soon earned himself a professional contract with a series of dynamic attacking displays full of pace and creativity. An integral part of The Shots' 2007-08 Blue Square Premier title-winning team, Hudson was second leading goalscorer with 15 – including the Boxing Day winner at Woking – and was named the Blue Square Young Player of the Year. Hudson continued that form in the Football League, and finished 2008-09 with 13 goals. His burgeoning reputation was by now attracting covetous eyes from around the League and upon moving to Brentford in July 2010 Kirk had taken himself into the top 10 of The Shots' all-time leading goalscorers.

We want to tell the official and unofficial histories of Aldershot FC and Aldershot Town, and we also want your memories, to create a personal history of your Club and form part of the new Shots Stories archive. Be it your favourite match or player, your first Shots game, your memory of a great goal or – because some of the best memories aren't always directly related to what happens on the pitch – the best away day or any story connected to supporting The Shots. These tales will be added to a new section of this website, so get writing and help us to remember. Email your contributions to steve.gibbs@theshots.co.uk with 'Shots Stories' in the subject.