2016 marks the 90th anniversary of football in Aldershot and this year we will be remembering the most important matches, players and moments which have shaped our clubs. Every day on our Twitter and Facebook pages we remember another piece of history, and then bring them altogether here at the end of the week…
Jonny Dixon (74 games, 32 goals), Saturday 22 January 2005 – Gravesend & Northfleet 1 Aldershot Town 3: The Wycombe striker plundered a superb hat-trick in the last game of his first loan spell with The Shots, and in three months – which yielded nine goals – Dixon had already become a talisman for Terry Brown's side. A further loan spell saw Jonny score four goals in ten games, and the clamour for his permanent signature grew such that the Shots' Player Share Fund was established with the specific aim of financing Dixon's return. £6,000 eventually secured his signature in January 2007 and his form during the first half of 2007-08, which saw him score 11 goals, set The Shots on their way to the Blue Square Premier title. Before that could be won, however, at the end of January 2008, Jonny became Aldershot Town's record sale when Brighton and Hove Albion paid £56,000 for his poacher's ability to create a chance out of nothing. The Shots had made a profit of £50,000 but lost a craftsman.
Aldershot Town 2 AFC Bournemouth 1 – Saturday 23 January 2010, The EBB Stadium: The Shots beat Eddie Howe's AFC Bournemouth in a crazy finale which saw Anthony Straker back-heel the winner and two players sent off as a feisty game exploded in injury-time. The enthralling victory, in front of a crowd of 4387, took Kevin Dillon's side up to sixth in League Two, after Andy Sandell – on his 50th appearance for The Shots – fired in a trademark free-kick from 20 yards to give The Shots a 21st minute lead. The resurgent Cherries equalised on 61 mins, from Brett Pitman's penalty awarded for Chris Blackburn's shirt pulling, but The Shots deserved their win, even if it came from a most unexpected source. On 87 minutes, Marvin Morgan was challenged and the ball broke to Straker, who back-heeled the ball across the six-yard box and into the net. The game ended in rancour, with a rash of bookings followed, in the 95th minute, by a mass brawl sparked when substitute goalkeeper Clark Masters threw the ball out of the dugout into the face of Bournemouth defender Warren Cummings. Both were dismissed but Dillon was thoroughly pleased with the afternoon, saying: "That's the type of game I want to see here. It was terrific."
Carlisle United 2 Aldershot 2 – Saturday 24 January 1970, Brunton Park: "What a fight-back" heralded the Aldershot News and Mail as The Shots earned a place in the FA Cup fifth round draw for the first time in 38 years. Second division Carlisle started like a train, and were 2-0 up in 23 minutes, but Aldershot – roared on by 1000 travelling supporters in a crowd of 15,534 – turned this into a classic, blood-and-thunder cup tie with their never-say-die spirit. A box-to-box counter-attack saw The Shots pull one back on the half-hour, as a cross from former United player Ronnie Walton set up a bullet header for Jack Howarth. The equaliser came on 63 minutes, from player-manager Jimmy Melia's corner. Howarth rose with the United goalkeeper, who failed to claim the ball, and 18 year-old centre-back Joe Jopling, in his first season with The Shots, volleyed in from 12 yards. Carlisle ended the game as it had begun, with a raft of chances, but Aldershot stood strong to earn a Recreation Ground replay which would create more history. AFC: Godfrey, Walden, Jopling, Walker, Dean, Paton, Walton, Brown, Howarth, Melia, Gowans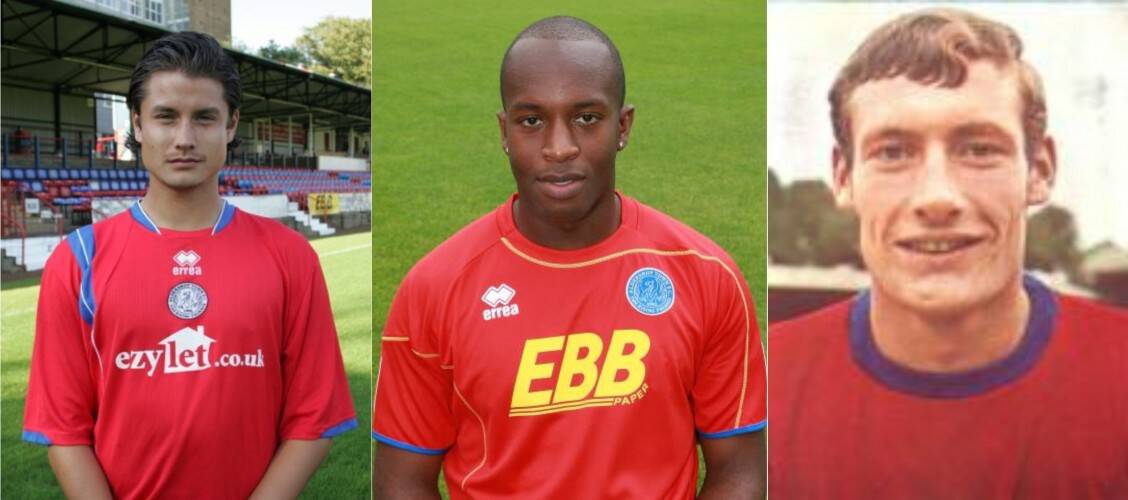 James Sonny Horton (51 games, 59 goals), Saturday 25 January 1930 – Grays Thurrock 1 Aldershot 2: A prolific, Farnham-born striker, James William George 'Sonny' Horton made a goalscoring farewell to The Shots ahead of his £1000 move to Millwall. Despite only playing two-thirds of the season, Horton drove The Shots to their first-ever title, the Southern League (Eastern) championship, with 31 goals in just 21 appearances. Immediately prior to this game, he had scored consecutive hat-tricks and left Aldershot having notched a remarkable 16 goals in just seven matches. The previous season, having joined from Woking (for whom he scored eight goals in his first two games) in November 1928, he had managed a 'mere' 27 goals in 26 games. From Millwall, Horton moved to Southampton and then returned to The Shots, only for a leg injury to force his premature retirement. After World War Two, Sonny became the Club's groundsman and, over 65 years after his scoring exploits, grandson Jamie would grace the same pitch.
Middlesbrough 2 Aldershot Town 1 – Saturday 26 January 2013, Riverside Stadium: In twelve thrilling minutes on the frozen banks of the River Tees, Aldershot Town's cup of dreams overflowed with hope and heartache and 797 travelling fans experienced the full gamut of footballing emotions in this FA Cup fourth round tie. Yet again it was Danny Hylton – back from suspension and scoring his eighth goal in four FA Cup matches – who sparked delirium in one corner of the Riverside Stadium with a lovely deft finish, only for the prospect of a lucrative replay to be dashed by Lukas Jutkiewicz's controversial winner in the sixth minute of injury-time. Whilst Hylton grabbed the glory, it was goalkeeper Jamie Young who took the plaudits, making several excellent saves to keep his side in the game and set up the stunning denouement. Jutkiewicz headed his side into an 84th minute lead, before Hylton equalised on 89 minutes. Soon, though, Jutkiewicz seemingly pushed Sonny Bradley in squeezing the winner past Young, and Dean Holdsworth spoke for everyone: "We deserved more than what we got. To have a result taken away from you in the last seconds is incredible." Watch the action here
Steve Claridge (76 games, 22 goals), Southend U 5 Aldershot 0 – Saturday 27 January 1990: A game best forgotten but nonetheless notable for being the last time that Steve Claridge wore the red and blue of Aldershot. Days later, John Beck's Cambridge United paid £50,000 for his services and Claridge was launched onto the next stage of a career which eventually took him to Wembley and the Premier League. Yet his Play-Off Final-winning skills were still displayed in the same ramshackle, rambunctious style which saw him endure the nickname 'Wurzel' in his time at The Rec. Signed from Crystal Palace in October 1988, Claridge scored 10 goals in his first season – including a superb header which saw The Shots beat Sheffield United 1-0 – and immediately became something of a cult hero. Another 12 goals in the first half of 1989-90 featured two hat-tricks, against the Uniteds of Scunthorpe and Hartlepool, the latter of whom were thrashed 6-1. Upon his departure to the Abbey Stadium, Claridge had played 76 games for The Shots and shown the qualities which were soon enjoyed by the entire nation. The rest is (in)famous footballing history.
Aldershot 1 Carlisle United 4 – Wednesday 28 January 1970, The Recreation Ground: It was the match which captured the Aldershot public's imagination like never before, as 19,138 packed into The Recreation Ground for this FA Cup fourth round replay, but unfortunately the night ended in disappointment for all but the 400 fans who had made the long trip down from Cumbria. Extra seats were installed pitchside but that merely allowed more people to witness a consummate Carlisle display which broached no repeat of the Shots comeback in the original tie. Dennis Brown spurned two early chances and United's response was merciless. They were 3-0 up in 40 minutes and added a fourth ten minutes after the break and, but for some last-ditch defending from Dave Paton and Joe Jopling and a couple of saves from Tony Godfrey, could have extended their lead. Jack Howarth's lob on 85 minutes – his 19th goal of the season – was scant consolation but still player-manager Jimmy Melia was able to boast: "This cup run has done us the world of good and it has put Aldershot on the soccer map".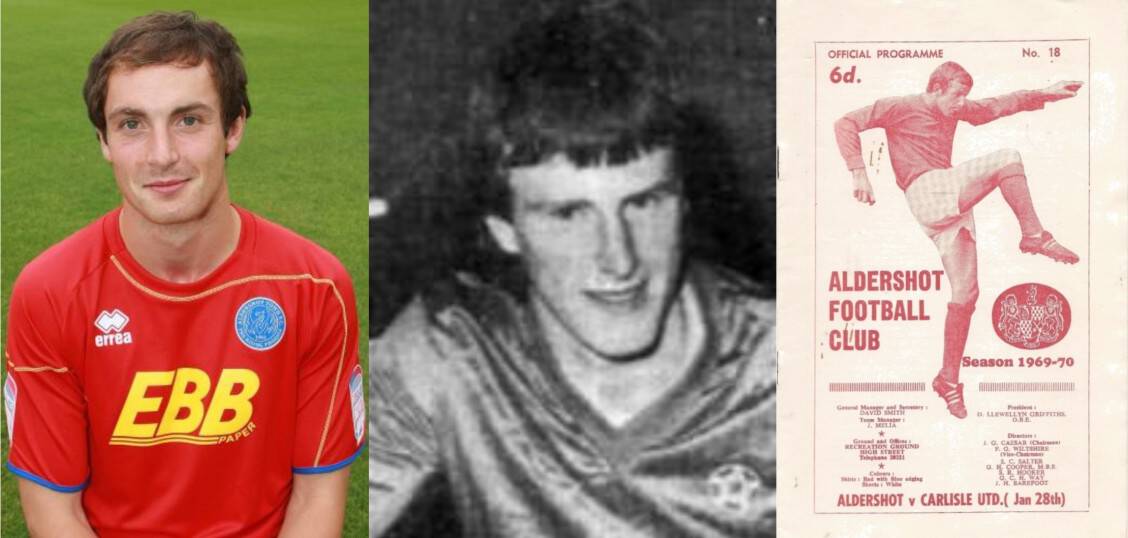 We want to tell the official and unofficial histories of Aldershot FC and Aldershot Town, and we also want your memories, to create a personal history of your Club and form part of the new Shots Stories archive. Be it your favourite match or player, your first Shots game, your memory of a great goal or – because some of the best memories aren't always directly related to what happens on the pitch – the best away day or any story connected to supporting The Shots. These tales will be added to a new section of this website, so get writing and help us to remember. Email your contributions to steve.gibbs@theshots.co.uk with 'Shots Stories' in the subject.