Aldershot Town and the Foundation have acquired and erected a Marquee that will be used at home games as a Family Fanzone in addition to a whole host of other community-based gatherings/events.
It is located at the High Street End of the EBB Stadium behind the Community Stand!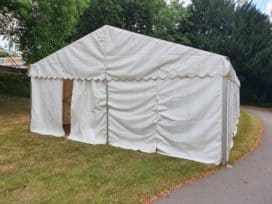 The Marquee itself can hold up to 50 people and we hope that it can become a good venue for fans to meet before a match and a take part in fun activities to create a more inclusive and interactive match day experience.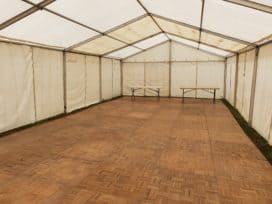 A big thank you must go to Natta Building Company, the sponsors of the South Stand, for generously supplying and installing the flooring for the Marquee.
The club and the foundation are working on many more ways in which the Marquee can be utilised to improve the community and family-based experience at the EBB.
Chairman of the Aldershot Town Foundation John Casey has described the details of the Marquee and how it was acquired:
"This is a tremendously exciting development both for the Foundation and the Football Club as well as the families and supporters of Aldershot Town.
"Over the course of last season attendances for the Community stand were noticeably on the increase and introducing a Family Fanzone is the next logical development for our work and will bring more and tangible benefits to the local community.
"We are grateful to the support of the Premier League Fans Fund for the financial support they have given in order to make the purchase of the Marquee possible.
"We set out three distinct aims when we applied for funding;
A) Enhancing the current Shots supporter's provision to develop new opportunities for young supporters to attend match days and to engage with the Club on non-match days.
B) Developing pre-match Fanzone provision for supporters. The new Fanzone provision would include activities range of activities such as face painting, table football etc to provide a more interactive and inclusive supporter experience.
C) Work to engage and sustain new supporters, through targeted outreach work with the local community and beyond – local schools, local clubs, local groups of supporters such as the military veterans and the Nepalese Community.
"Now we have the practical task of making the dream a reality so that everything in the Fanzone is ready and in place for when football returns to the EBB.
"I would ask that if there are any local people who want to help us or local companies to support us please get in touch with us via the Foundation links on the website or www.shotsfoundation.co.uk"
Foundation Manager John Monday also added:
"The Shots Foundation is absolutely delighted to announce that we have acquired and erected a Marquee at the front of the stadium that will become the focal point for our Match Day Fan Zone, Vets Hub activities and proposed Summer Holiday Lunch Time Club.
"We are working on lots of exciting ideas to maximise the use of the Marquee to provide fun, entertainment and learning opportunities for the local community."