Aldershot Town Football Club are delighted to confirm that Danny Searle has signed a two-year extension to remain as First-Team Manager until the end of the 2022/2023 season.
Since his permanent appointment in 2019, Searle has gone on to manage over 100 games at the club as he approaches the end of his second season in charge.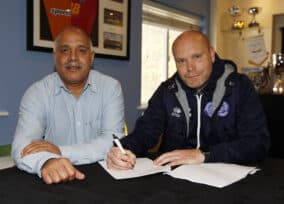 Upon signing his new deal, Danny said:
"It's been a tough two years but we've learnt a lot and it's been great to see everyone pulling together to ensure the club not only survives but is also financially secure.
"The next two years will bring its similar challenges financially which means we have to be creative with our recruitment and continue to work even harder to try and keep the progress on an upward curve.
"We're delighted to be staying and look forward to the challenges ahead."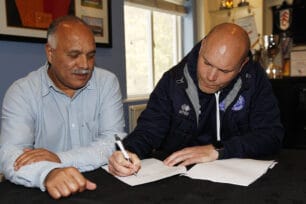 Shahid Azeem, Aldershot Town Chairman said:
"We are delighted to reach an agreement with Danny to sign an extension to his contract as First Team Manager. Since becoming permanent manager he has done an excellent job, especially under the current circumstances.
"The fact that Danny took over in May 2019 when we weren't even sure what league we were going to be in, followed up by the season prematurely ending in late February and this season we started this season with no crowds and it was a unanimous decision by the Board of Directors to extend his contract.
"As a club we have a clear vision with our stadium development and financial security in our Five-Year Plan as discussed at the last Fans Forum, and to do this with our financial constraints we must have both a medium and long term vision and project.
"Danny has absolutely bought into the club's ethos of developing and recruiting energetic, talented young players whilst maintaining a solid spine of experience within the squad – as a group the board and coaching team are fully as one with this approach.
"We look forward to continuing to work with Danny and his team. They all have a great passion and desire to give everything for Aldershot Town Football Club, and we have every faith in them to achieve our goals."