The Vanarama National League yesterday presented a cheque for £5,220 to Prostate Cancer UK as the League continues to promote awareness of a disease which affects one in eight men.
The cheque was presented to prostate cancer sufferer Kevin Webber, at the National League's pre-season meeting at Walsall's Banks's Stadium, following a variety of fundraising activities including the National League Promotion Final, a League Gala Awards evening and by being part of Jeff Stelling's epic March for Men last month.
AFC Wimbledon fan Webber was diagnosed with terminal prostate cancer in August 2014 but has since completed several marathons – including two during his initial programme of chemotherapy – and twice finished the six-day, 251km Marathon des Sables ultramarathon which takes competitors through 60-degree heat in the Sahara Desert. He also ran 400 miles alongside Stelling on his March for Men.
Inspired by the mantra "when things in life get tough, you get tougher", he last weekend completed a 220km race in Spain, recently ran 15 marathons in 15 days and will soon tackle both a 250km course in Iceland and 350-mile race through the Arctic Circle whilst pulling all of his food and equipment on a sledge.
One man dies from Prostate Cancer every hour – a total of more than 11,000 each year – and Vanarama and the National League have committed to continuing their support of the charity in 2017-18 to help make it a disease which future generations need not fear. Currently, it is the most common cancer in men, with over 330,000 living with the disease.
Brian Barwick, Chairman of The National League, said: "This has been a terrific effort by all involved, particularly those who joined Jeff Stelling's March for Men from both the League and Vanarama. We're delighted to collectively play our part in supporting Prostate Cancer UK, to raise funds and awareness of the most common cancer in men.
"This season we'll be continuing our relationship with the charity and look forward to drawing more attention to the excellent work they do across the country. We thank all the football fans who have already been so supportive and ask that they continue to get behind a cause which affects so many men and their families."
James Beeby, Director of Fundraising at Prostate Cancer UK, said: "We are thrilled that The National League and their sponsors Vanarama have chosen to support Prostate Cancer UK. As well as raising funds through their activities last season, they're also raising crucial awareness of a disease which kills one man every hour.
"Prostate Cancer UK is leading the fight against this injustice, funding ground-breaking research to stop prostate cancer being a killer. The more men we can reach the better, so we thank the Vanarama National League for supporting us and helping us beat this disease."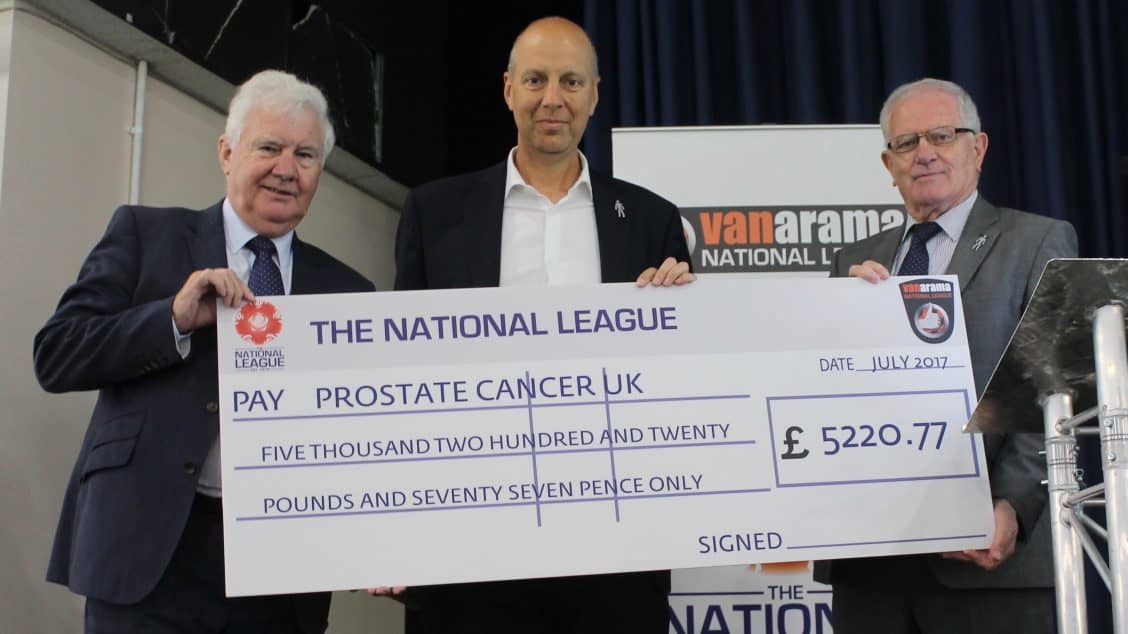 Image: Charles Clapham, Vice Chairman of Prostate Cancer UK; Kevin Webber; Colin Peake Operational Support Director of The National League