Aldershot Town return to winning ways against 10-men Yeovil Town thanks to goals from Chike Kandi and Harrison Panayiotou at the EBB Stadium in the National League.
Alex Bradley was sent off for Yeovil after a bad challenge on Panayiotou before Kandi headed home from close range.
The win was secured late on when Panayiotou arrowed a powerful effort into the top corner.
Looking to improve from our loss against Sutton United, Danny Searle named two changes to the starting eleven with Craig Tanner returning to start ahead of Joel Nouble and Kandi coming in for Ricky Miller.
Yeovil piled the pressure on early and Tom Knowles had a great chance to open the scoring for the Glovers in the opening 10 minutes. Knowles beat Mitch Walker but heroics from Lewis Kinsella denied a certain goal with a clearance off the line, colliding with the post for his troubles.
Aldershot Town replied well when George Fowler's cross went over the head of the Yeovil defenders, falling to the feet of Panayiotou whose volley was inches away from finding the back of the net in the far corner.
Minutes later, Aldershot Town were close again to taking the lead when Tanner found a bit of space on the right-hand side to get a shot away with his curling effort hitting the outside of the post. The game started to get tense near the end of the first-half with Billy Sass-Davies and Chris Dagnall having to change their shirts due to head and nose injuries.
Just after half-time, Aldershot Town took a deserved lead when Fowler regained possession before back-heeling to Tanner who crossed on his weaker foot to find Kandi who headed home from close range. Tensions flared in the Yeovil camp and it got worse when Bradley was sent off for a late foul on Panayiotou.
Aldershot Town came close to doubling their lead when Joel Nouble and Tanner linked up well on the right-hand side before the ball was crossed into the box and cleared before Kandi fired narrowly wide of the far post with a volleyed effort.
Chances would not be rued for Aldershot Town as they doubled their lead just under 10 minutes from time. A ball over the top from … fell to the feet of Nouble who controlled beautifully before laying off Panayiotou on the right-hand side to power his effort into the top corner.
A flurry of chances fell to Aldershot Town's way soon after as Toby Edser was played through on goal but his effort was saved by Adam Smith before Mo Bettamer's strike was also smartly saved with the ball falling to Panayotou who was unable to convert.
Aldershot Town held out to return to winning ways in the closing minutes of the game as they remain 15th whilst Yeovil remain 16th.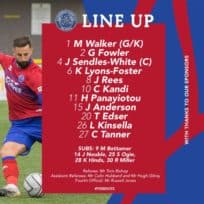 Aldershot Town XI: 1 M Walker (G/K), 2 G Fowler, 4 J Sendles-White (C), 6 K Lyons-Foster, 8 J Rees (Nouble 28′), 10 C Kandi (Hinds 74′), 11 H Panayiotou, 15 J Anderson, 20 T Edser, 26 L Kinsella, 27 C Tanner (Bettamer 74′)
Unused Subs: 25 S Ogie, 30 R Miller
Yeovil Town XI: 1 A Smith (G/K), 14 M Kelly, 19 J Quigley, 21 T Knowles, 22 C Lee, 24 J Neufville, 25 E Sonupe (D'Ath 67′), 27 A Bradley, 33 R Reid, 34 C Dagnall (Stephens 82′), 35 B Sass-Davies
Unused Subs: 31 M Evans (G/K), 37 A Heaton, 38 J Medrano