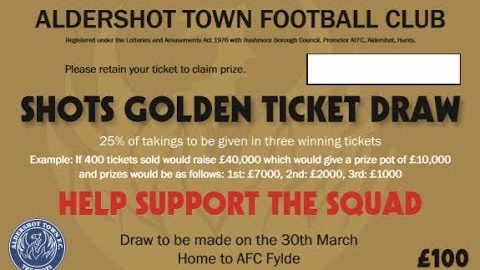 We're pleased to announce that we have surpassed the 250 mark for our Golden Ticket fundraising campaign.
Shots fan and sponsor Mike Scott popped into the club shop today and purchased five Golden Tickets representing his Scott2Go consortium.
Your Golden Tickets have so far helped fund the signings of Gerry McDonagh and Johnny Goddard as we head into this crucial end-of-season run in.
Following on from Saturday's game against Chesterfield it has taken our number of tickets sold to as of 4:30PM on Monday 21st January to 256.
That leaves the total money raised currently at £25,600, leaving a prize pot of £6,400 which leaves £4,480 for 1st place, £1,280 for 2nd and £640 for 3rd.
You can purchase your Golden Ticket online HERE.
Shots Commercial Manager Mark Butler gives you an update in the video below: