The Shots hosted a very special guest from Sunrise Care Homes for our 1-0 victory against Wrexham A.F.C. last Saturday.
Lisa Baxter, the Activities and Volunteers Coordinator at Sunrise of Fleet, heard about our Dementia Awareness month and contacted us to ask if we would treat one of her residents to a game at The EBB.
Prior to kick-off, Shots manager Danny Searle and Wrexham manager Bryan Hughes joined Brian and his family for a photograph on the pitch, before presenting him with a signed Wrexham shirt from all the players.
Several players and officials from both teams also wore blue laces in support of the Alzheimer's Society, along with the generous volunteers who collected a bucket collection at both the A.F.C. Barrow and Wrexham A.F.C. fixtures to raise funds to help this wonderful charity.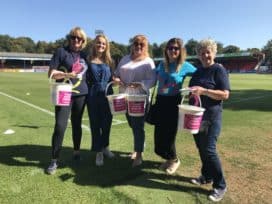 Shots Foundation Manager John Monday organised the event and had this to say on behalf of the club and in particular, the Shots Foundation:
"We were delighted to organise a visit for lifelong Wrexham fan Brian, his family and carers.
"Thank you to everyone that contributed.
"What struck me more than anything else were the stories and emotions shared by so many of you.
"I'd like to thank the bucket ladies who helped out over the two days and of course the boys – Joe, Harry and our Vets Hub coordinator Dave."