Last night (November 28th 2019) Aldershot Town hosted our quarterly fans forum in the EBB Lounge at The EBB Stadium.
Around 200 fans attended a newly formatted forum which saw five members of different hierarchy within the club present their collective vision as well as giving an update on their areas of the club.
These people were: Mark Butler (Commercial Manager), Waleed Khan (Director of Academy), John Monday (Foundation Manager), Shahid Azeem (Chairman) and Danny Searle (First Team Manager).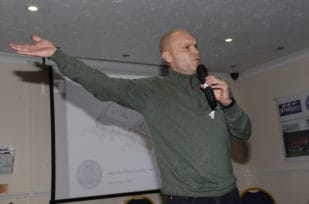 In addition to those in attendance, up to 130 people tuned into our Facebook live stream of the event, giving those who weren't able to attend in person an opportunity to see the presentations and the questions themselves. The three live streams of the vent are available to re-watch on our Facebook page if you missed the forum.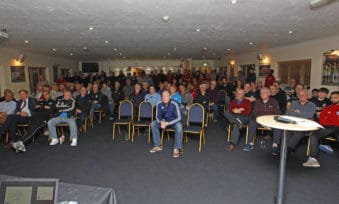 The entire first team squad were also in attendance on the night. They stayed during the first-half presentations and the break where fans were able to talk to a a few of them. One player in attendance was new signing Lewis Walker who has joined on a short-term loan from Queens Park Rangers. This was a special treat for those fans in attendance and ones watching on Facebook live as his unveiling there by Danny Searle came two hours before his official announcement on the club's outlets.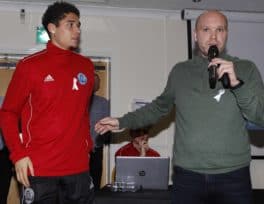 These presentations were made in the first hour before a short break took place. During the first half of the forum and the break, fans were prompted to write down any questions they had for the club on a slip of paper provided. Fans were also advised to send in questions prior to the event via email if they had any and were maybe unable to attend on the night.
Mark Butler then went through all of the questions that were asked during the second half and the club hierarchy answered those questions posed to them.
The Chairman of the Aldershot Town Supporters Club Ray Hedgeman was there on the night and gained a few new members during the evening. You can still sign up for the supporters club.
To find out more, please speak to a member of staff at our home game on Saturday against Chesterfield FC and we can arrange forms for you to fill out.
Our next fans forum will be announced in due course.