The Shots welcomed Jess Hillicks of the Alzheimer's Society after training to talk about the campaign they are running known as Dementia Friends.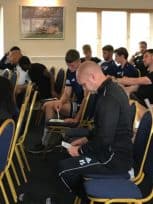 As per the official website for the campaign, "Alzheimer's Society's Dementia Friends programme is the biggest ever initiative to change people's perceptions of dementia. It aims to transform the way the nation thinks, acts and talks about the condition."
First-team players were given a talk on the importance of the awareness of Dementia and how they can further their role as professional footballers to their fans and local community who may be suffering with the condition.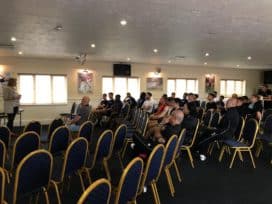 Following the talk, each player was given a small badge that they will wear to show their commitment to the work that people like the Alzheimer's Society are doing and will also wear blue laces this weekend against A.F.C. Barrow to show their support for the charity.
For more information on the charity or if you want to help out yourself with these kind of campaigns that they run, please visit their website HERE