It is with sadness the club has heard of the passing of two life-long Aldershot Town supporters Tony Brooker and Ron Boyd.
Tony was known for his commitment to the club as well as his close friendship with former Chairman John McGinty and the McGinty family. He was born on 6 October 1938 and died on 30 December 2019 at the age of 81. He was local to the club and attended local schools with Paul Muddell.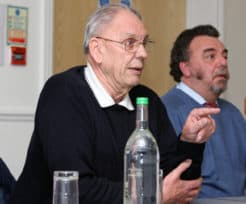 Tony supported Aldershot from his childhood until his death, although his illness precluded him from attending games this season and only one of last. He was a keen sportsman and excelled at football, cricket, golf, snooker and even darts.
Enlisted into the Royal Navy, he had many tours abroad and would represent his ship at football and cricket at various venues.
He was also a qualified referee and kept his fitness up by training with the players at the football club. He would attend many away matches and was a keen family man, speaking often about his wife, children, grandchildren and great-grandchildren.
He also became vice-chairman of the old Supporters Club committee and was one of two supporter representatives on the club board until the Supporters Club merged with the Trust.
As for Ron, he was as big a supporter of the club as anyone. Life-long and dedicated, he always made the effort to do as much as he could to support the club. He was a valued member of the Centurions' Lounge since it used to be called The Ambassadors Club.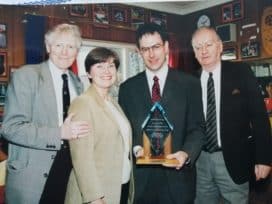 Both were true Shots fans and both will be truly missed from all thoughts involved with Aldershot Town.
Our thoughts and prayers are with their families during this extremely difficult time.