Everybody at Aldershot Town Football Club is absolutely devastated to learn of the passing of Paul Shrubb. Paul bravely fought Motor Neurone Disease after being initially diagnosed in 2006.
A true gentleman and respected by all who knew him Paul originally joined Aldershot FC in August 1982. His football career started at Fulham, for whom he joined as a 15 year old. He then played in South Africa for Hellenic after being persuaded by England World Cup winning captain Bobby Moore to play abroad. Upon his return to England Paul joined Brentford making 182 appearances and enjoying promotion in 1977/78 from the Fourth Division.
Paul made his Aldershot debut v Tranmere Rovers in 1982 and in five seasons made 202 appearances for the club including the historic 86/87 promotion season although Paul's season was curtailed by injury. He does have the distinction of playing in every shirt number (1 to 11) for Aldershot; he replaced the injured David Coles in goal at Swindon Town in 1986.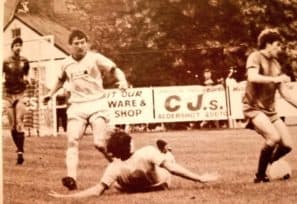 After successful coaching spells at a number of clubs including Woking, Leatherhead and Cove Paul returned to the new Aldershot Town FC in October 1992 on the coaching staff as well as playing too; he made his debut for the phoenix club at Hertford Town and went on to make 31 appearances for the club. In addition to his five years at Aldershot FC Paul was on the coaching staff at the new club for a further five seasons; his claim to fame being that he is the only Aldershot manager in history to have a 100% win ratio; he was Caretaker in January 1995 after victory in his only game in charge versus Berkhamsted Town. Paul was granted a Testimonial in 2006 where Shots played Charlton Athletic; a club that he spent a number of years with as a Scout.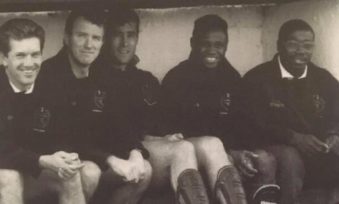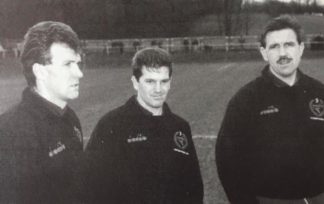 Despite his illness Paul remained within football for many years and was involved with AFC Wimbledon scouting under the management of Terry Brown. Aldershot, however, was always his passion and there was nobody happier when Aldershot was saved in the summer of 2013 and, the following season, survived relegation despite a -10 point deduction at the start of the season. Included in the Shots management staff by then was Terry Bullivant, a great friend of Paul's as they started out their careers at Fulham.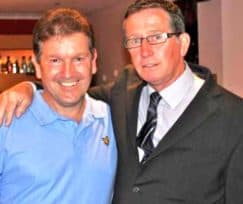 Guildford-born Paul remained an ardent Shots fan throughout and was always a welcome guest in his Directors Box seat for many years until the illness started to limit attendance during last season. He always enjoyed watching the matches with his good friend Ron Boyd, who we also sadly lost earlier this year.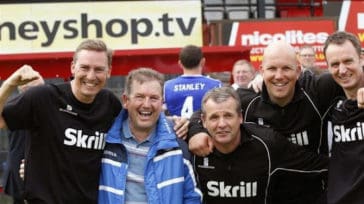 Paul Shrubb will always be a legendary figure for football in Aldershot. In addition to his footballing contribution the positive way he fought Motor Neurone Disease for so many years was well recognised and is a testament to the warm hearted and wonderful human being he was. Never complaining and always more concerned about the well being of others. He was a wonderful man for whom we will all miss terribly.
Our deepest sympathies are sent to Pauls' wife Judith and all the Shrubb family at such a difficult time.
RIP Paul- A true Red and Blue man.
An Aldershot Legend of the highest calibre.
(Words by Graham Brookland)
Club Chairman Shahid Azeem also had a few words to say about Paul's passing.
"On behalf of Aldershot Town Football Club, it is such sad news to hear the passing away of Paul Shrubb.
"Paul in recent years attended most home matches in the directors box, a true football person to the core, who was completely committed to football until his four daughters arrived, and became a devoted family man.
"Paul will be sorely missed by many.
"On a personal note, I have known the Shrubb family via Ted Harms and who ran managed at Merrow football club in late 70's, where I played along with Paul's cousin Brian Shrubb.
"Fifteen years ago when Paul was diagnosed with Motor Neurone, Trevor Porter, who is a good friend of mine and an apprentice with Paul at Fulham, and Paul became business partners in Window Cleaning.
"We had a golf day in Paul's honour at Sutton Green to raised funds for Phyliss Tuckwell. Paul was a great supporter of the Hospice and Paul got me involved in the "Ice Bucket" challenge for the Hospice.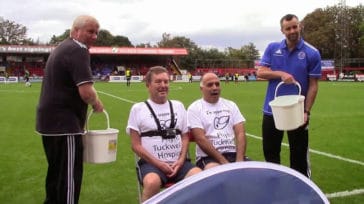 "Speaking to Trevor Porter, his most avid memory of Paul is that, in 40 odd years he had known him, Paul never ever swore. I will remember Paul, as a true gent and never had a bad word about anyone.
"On behalf the club, sincere condolences to the family."
Paul Shrubb (01 Aug 1955 to 28 May 2020)