Guildford Cathedral was illuminated red, white and blue on Saturday evening in honour of the men and women of our Armed Forces, and Aldershot Town Football Club were visible in the illumination!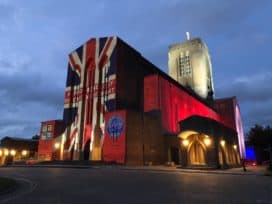 The lighting was provided by Peachy Productions Ltd, the Surrey based events company that lit the Cathedral every Thursday night during lockdown to thank the NHS workers. The cost of the Armed Forces Day illumination was met by Aldershot Town Football Club's Chairman Shahid Azeem and the Woking Asian Business Forum.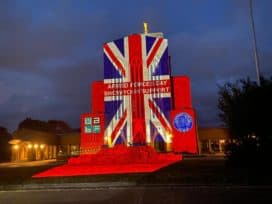 Shahid Azeem said: "We are very proud and honoured to have sponsored the illumination of Guildford Cathedral and in particular the contribution the Indian subcontinent made during World War 1 and 2 and to have the first Muslim military burial ground in Woking in 1914, which now has been renovated to The Muslim Peace Garden.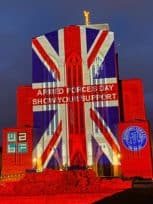 "We are very proud of our history with the British Army as being the first football club in as well as leading all the National League football signing the Armed Military Covenant and becoming the first football club to receive the MOD Silver Employer Recognition Scheme."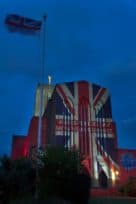 The Dean of Guildford, the Very Reverend Dianna Gwilliams, said: "It was an enormous privilege for the Cathedral to be lit blue every Thursday for almost three months, to thank those in the health profession and other key workers who have given so much on our behalf in hospitals and amongst the community during this worrying time.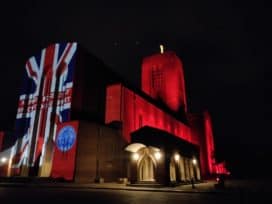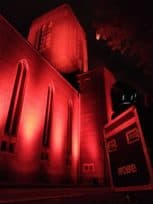 "Now we have an opportunity to thank our Armed Forces in a similar way, and pay tribute to the men and women, as well as their families, who sacrifice so much to ensure that our country is safe and secure at all times. I am so very grateful to Peachy Productions for having provided the lighting all these weeks, and for the generosity of Aldershot Town Football Club and the Woking Asian Business Forum for making the illumination possible this Saturday."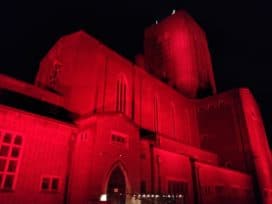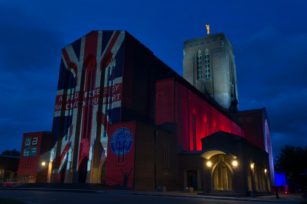 The Managing Director of Peachy Productions, Philip French, said: "The lighting of the Cathedral on Saturday in honour of the Armed Forces is a fitting culmination of many weeks of work to show support to those who work for the benefit of the community."