Aldershot Town manager Barry Smith this morning helped Aldershot Garrison personnel launch the 2015 Royal British Legion poppy appeal at the EBB Stadium.
Giant poppies are again on display around the stadium, where a collection, organised by the Aldershot Branch of the Royal British Legion, will be held at tomorrow's Emirates FA Cup fourth qualifying round tie against Sutton United.
Smith was joined by Garrison Commander, Lt Col Mac MacGregor, Garrison Sergeant Major, WO1 Tom McCabe, and one representative of each of the 10 units currently stationed in Aldershot.
"I think it's a great relationship that we have between the Garrison and Aldershot Town Football Club," explained Lt Col MacGregor, "and I couldn't think of a better way to launch the Hampshire Poppy Appeal, or a better group of people to celebrate it with. In my short time in this job one thing that has really struck me is the relationships between the Garrison, the town and the Football Club – you couldn't ask for a better relationship.
"Sport is a great part of the British Army, and something that people are very passionate about, so why wouldn't we celebrate it with Aldershot Town? The Club has been instrumental in supporting the Army, particularly in being the first Club to sign up to the Armed Forces Corporate Covenant, and we recognise the excellent work that they are doing."
Aldershot Town Chairman, Shahid Azeem, continued: "We are very proud to represent the Home of the British Army, and to support the Garrison as a vital part of our local community. We are also delighted to continue to support the Poppy Appeal, to both raise money for a wonderful cause and commemorate the sacrifices made by our Armed Forces. We salute every single person who has served our country with great courage and honour."
First held in 1921, and inspired by John McCrae's poem In Flanders Fields, the annual Poppy Appeal raises money for the Royal British Legion's work in supporting members of the Armed Forces, their families and dependents.
The Aldershot Branch will be assisted by 1 Platoon Aldershot Army Cadet Force in their collection, which last year raised over £35,000. Caroline Mills, Poppy Appeal organiser for the Aldershot Branch, said: "We always get such a warm welcome from the Football Club. Each event, like last year's Truce Match and Carol Concert, and the Seats for Soldiers initiative, shows how much the Club is behind improving their links between the local armed forces and the town."
The Aldershot Branch will also be involved in the minute's silence to be held before kick-off in the Shots' home Vanarama National League game against Lincoln City on Tuesday 10 November.
For further information about volunteering for the Poppy Appeal, please email aldershotrbl@hotmail.com.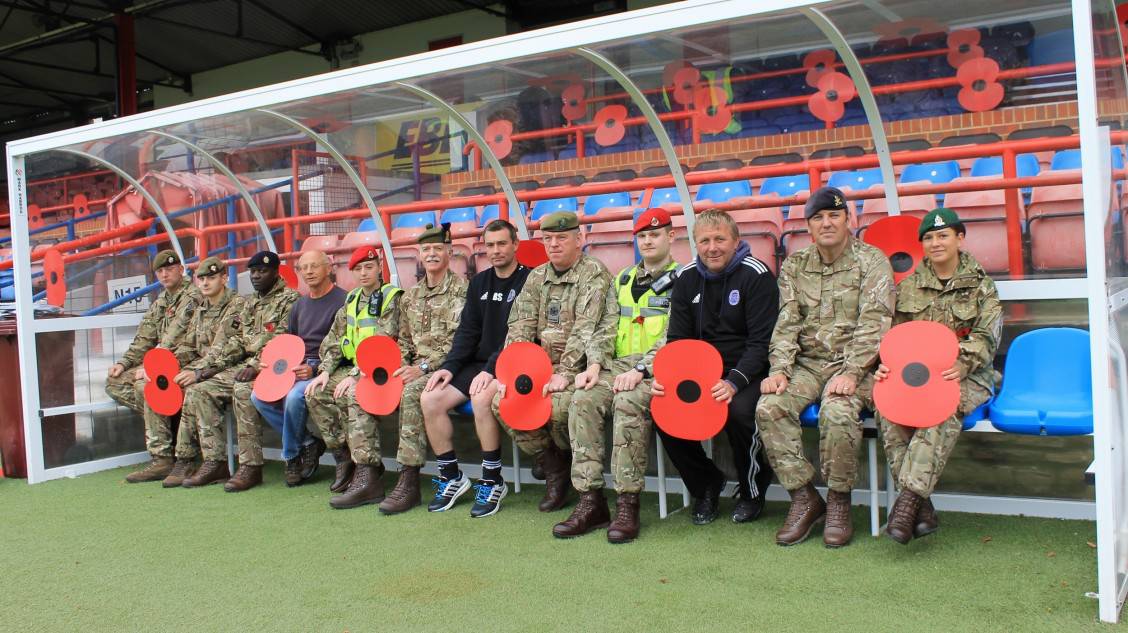 Image: Aldershot Town groundstaff Barry Wren and Andy Nunn, with manager Barry Smith (centre) flanked by Aldershot Garrison Commander, Lt Col Mac MacGregor and Garrison Sergeant Major WO1 Tom McCabe, and members of Aldershot's Armed Forces